As seen in the Neiman Marcus Christmas Catalog
The Texas Guitar Trio
From air guitar to heirloom, instant classics commissioned by Texas music legends.
The Steve Miller: Master luthiers John and Jake Bolin of Bolin Guitars have built this guitar to the exact specifications of the prolific American musician and songwriter.
The Lyle Lovett: For the musician who blends folk, swing, blues, jazz, and gospel with country and western, a rosewood and abalone guitar was handmade by his longtime colleague Bill Collings.
The Billy Gibbons: Designed by rock guitar icon Billy Gibbons, this modern riff on the classic 1961 Gibson SG is the ZZ Top legend's ultimate dream guitar. Read more….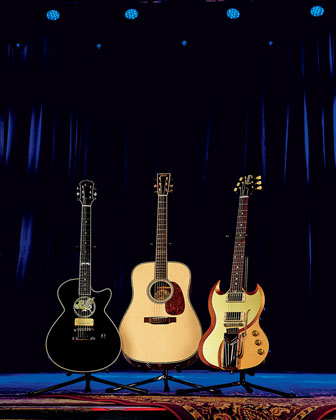 View more images here
Custom built guitars Boise, Idaho
For 35 years, John and Jake Bolin along with their staff at Bolin Guitars have made some of the most remarkable guitars and basses in rock and roll history. Their clients include; Billy F. Gibbons & Dusty Hill, Keith Richards & Ronnie Wood, Steve Miller, Joe Perry, Bo Diddley, Doc Watson, Lou Reed, Jimmy Page, Timothy B. Schmitt, Joe Walsh, Muddy Waters, and Albert King to name a few.
Bolin Guitars specializes in:
Bolin guitars are all meticulously hand crafted.